Winter Is Peak Hog-Trapping Season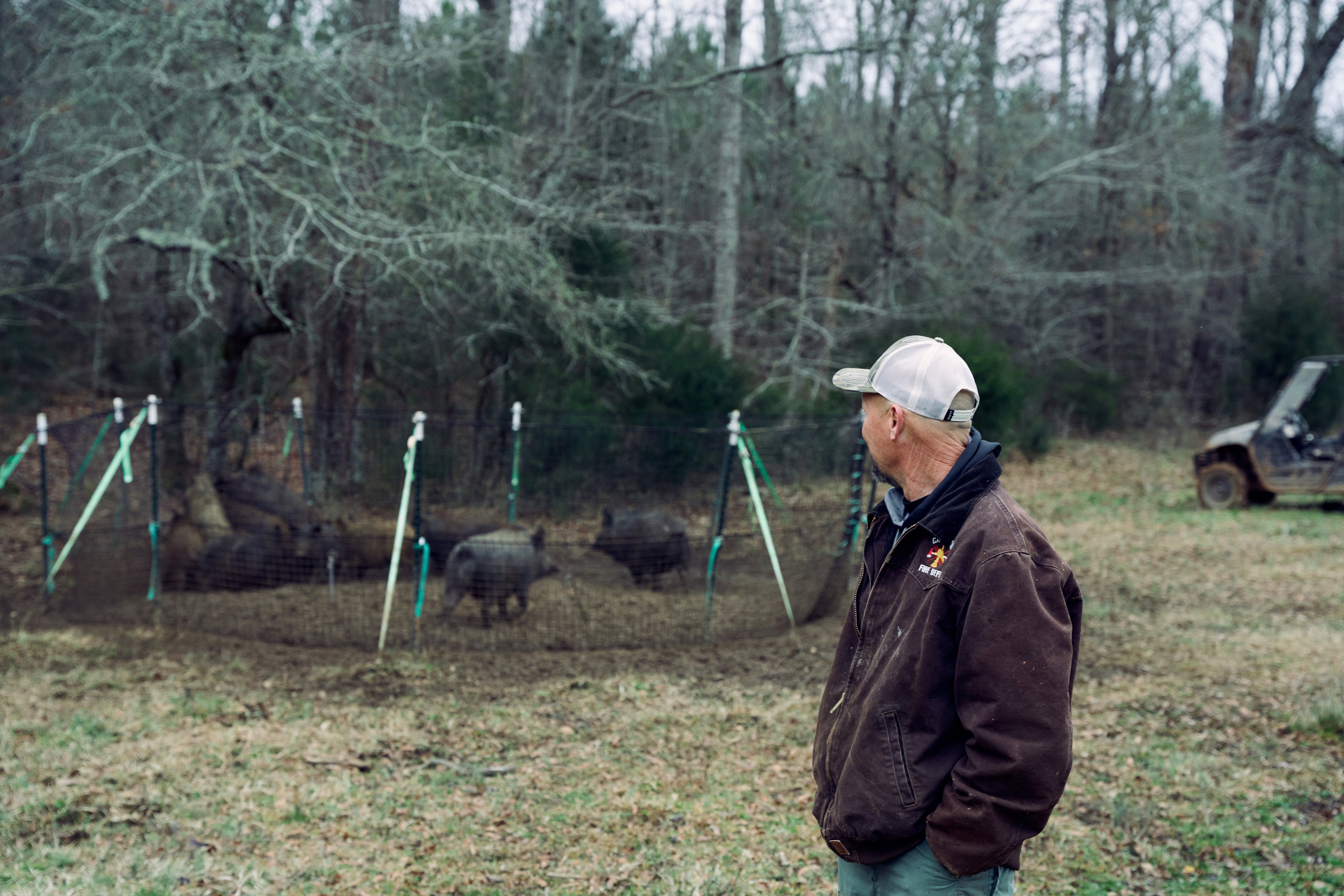 Tractors are parked in the shed and you've got the heavy coat on. Cold shop floors, frozen stock tanks, hauling hay and replacing dull plow points are all reminders of the season ahead. Your equipment needs upkeep, and so does your land. 
If feral hogs have been destroying your fields, food plots, crops or range this year, now is the time to act. Protect your livelihood with a Pig Brig® Trap System. It's the best way to catch the whole sounder. 
The good news? Winter is your best opportunity for hog-trapping success. With no crops left in the fields, wild pigs have nothing to eat but the bait you leave them. So take advantage of this time and get ahead of your problem. If you wait till Spring to set traps, even more feral hogs will come to destroy your crops. And they don't just tear up crops. They consume feed for every other animal, whether domesticated or wild, and they degrade habitat, soil and waterways. 
No matter where you're trapping, the Pig Brig Trap is the most effective solution, with easy, fast, one-person assembly, lightweight transport and no need for cell service or subscriptions. Learn more. 
Need more info on how best to trap? Check out our Trapping Fundamentals page. 
Want to discuss the particulars of your wild pig problem? We can talk timing, seasonal effects, trap placement and any other questions you have about Pig Brig. Email us at info@pigbrig.com or call us at 1-833-PIG-BRIG.
Show Us Your Catch
We think the Pig Brig is great, but don't take our word for it. Here's what a few of our owners around the country have to say. 
Bradley N., Oklahoma:
"I have been able to eliminate around 20-25 pigs in a few weeks. My neighboring farmers have noticed they aren't seeing pigs now and have inquired on what I was doing to control the population. This is the best effective way to control the feral pig population!"
John G., Alabama:
"334 pigs in 13 months with one trap and I slept all night every night. Incredible trap, light weight, easy to use and simple for one person to set and maintain."
Mike M., Texas:
"Have owned a Pig Brig for 1 1/2 years. I live in NE Texas. Have trapped over 100 pigs in several locations. It works great! Simple and easy to move around. Then there is the support and customer service from the company and owners that is top-notch!!!!!! It is amazing how many feral hogs have been trapped with the Pig Brig trap in the USA & overseas! Lots of good sausage! Proud to be in the Pig Brig family!"
Want to see more reviews? Check out some other Pig Brig testimonials. 
Send pictures and join the Catch Club! 
For more information on the Pig Brig Trap that's right for you, check out the traps themselves or contact us at 1-833-PIG-BRIG.