New Pig Brig Trap Trigger Gives You Remote Control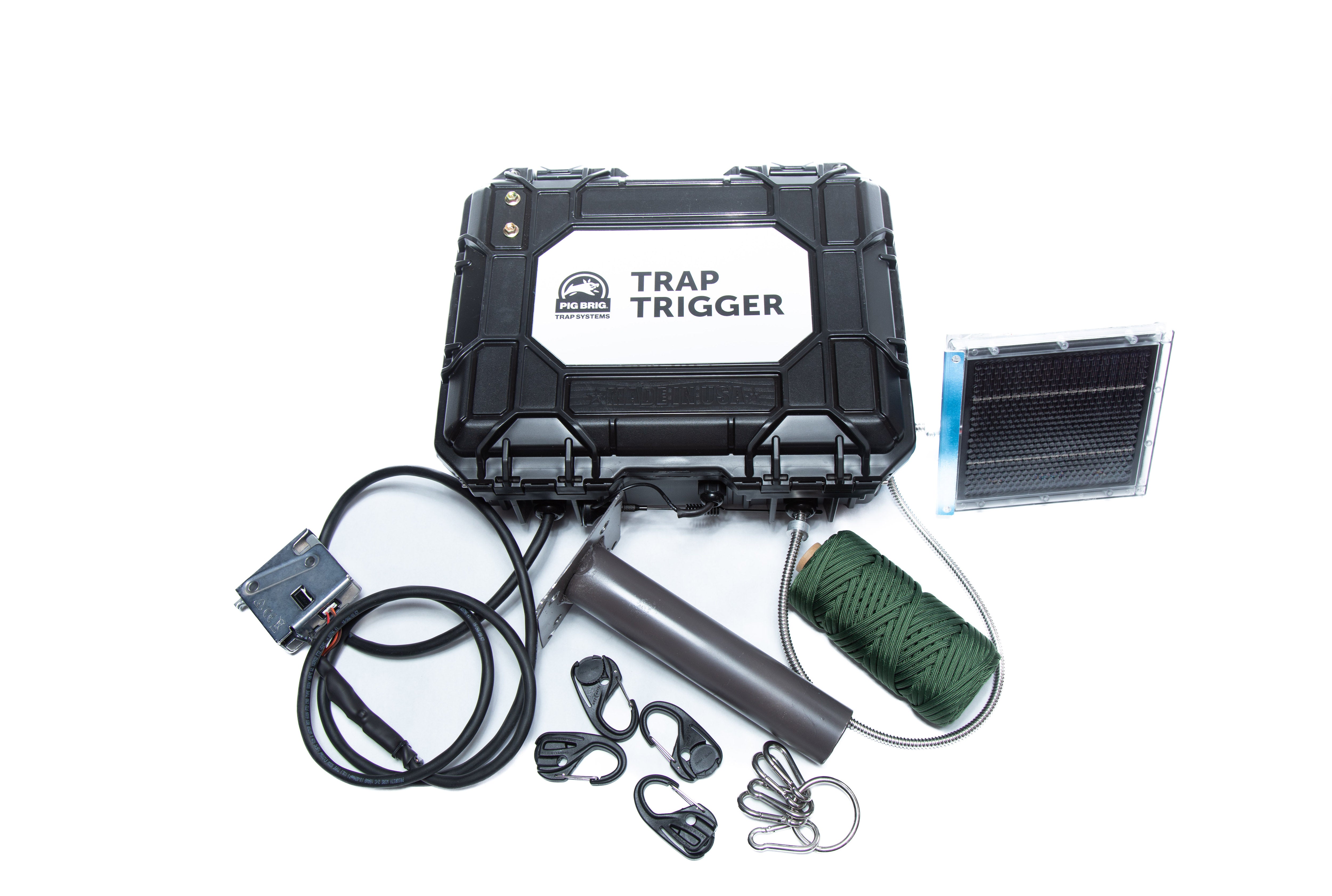 Remote activation expands how you can use the traps.

Helps if you live far from traps or manage multiple locations.

Easy setup, runs on solar or battery power.
No matter how great we think the Pig Brig® Trap System is, we're always looking to make it better and more versatile for different situations. That's why we partnered with Matt Palmer at Hog Trap Triggers to develop a new trap trigger especially for Pig Brig Traps. Now, you can  remotely activate the trap, moving it from the conditioning phase to the set phase. It's compatible with all versions of the Pig Brig, so you can use it to operate existing traps — or traps you may be looking to buy.  
For most folks, the Pig Brig needs no improvement. As you know, it's a highly effective way to catch feral pigs.. It doesn't require any cell service or have any gates or moving parts. It's a simple and reliable way to help protect your crops, your land, your game and your livelihood.  
Why You Might Need the Trap Trigger
Yet there are some situations where getting to the trap is not convenient. If you're an absentee landowner who lives far from where you need the Pig Brig trap, or if you're managing multiple trapping sites and can't get to the traps to change them from the conditioning phase to the set phase, you can use the trap trigger to drop the trap net — without having to travel. This new remotely activated trigger makes your life easier and saves you time and miles in the field. 
The Pig Brig Trap Trigger can also be helpful if you're dealing with a wily, trap-shy pig. If you're using a camera, you'll know when to use the remotely activated trigger to drop the trap while animals are feeding inside.
To be clear — the Pig Brig Trap itself never requires cell service, but if any of these situations describes your own situation, we recommend you add the convenience of a Pig Brig Trap Trigger.  
Setup and Operation
Setup is easy, and the waterproof housing comes with a sturdy metal T-post mount. The device runs for 10 days on battery power or 2.5 months using the included solar panel. 
Using simple text codes on your cellphone, you can test the trigger's signal strength and battery life remotely. You can also activate the trap trigger via text. One code tests the trap and another drops the net. It's simple and effective, just like the Pig Brig itself. 
 We're excited about this new accessory. If you're already using the new Pig Brig Trap Trigger, let us know! We'd love to hear how it's going and learn what's working for you. If you're open to it, we'd also like to share your success stories. You can email us or call us at 1-833-PIG-BRIG.