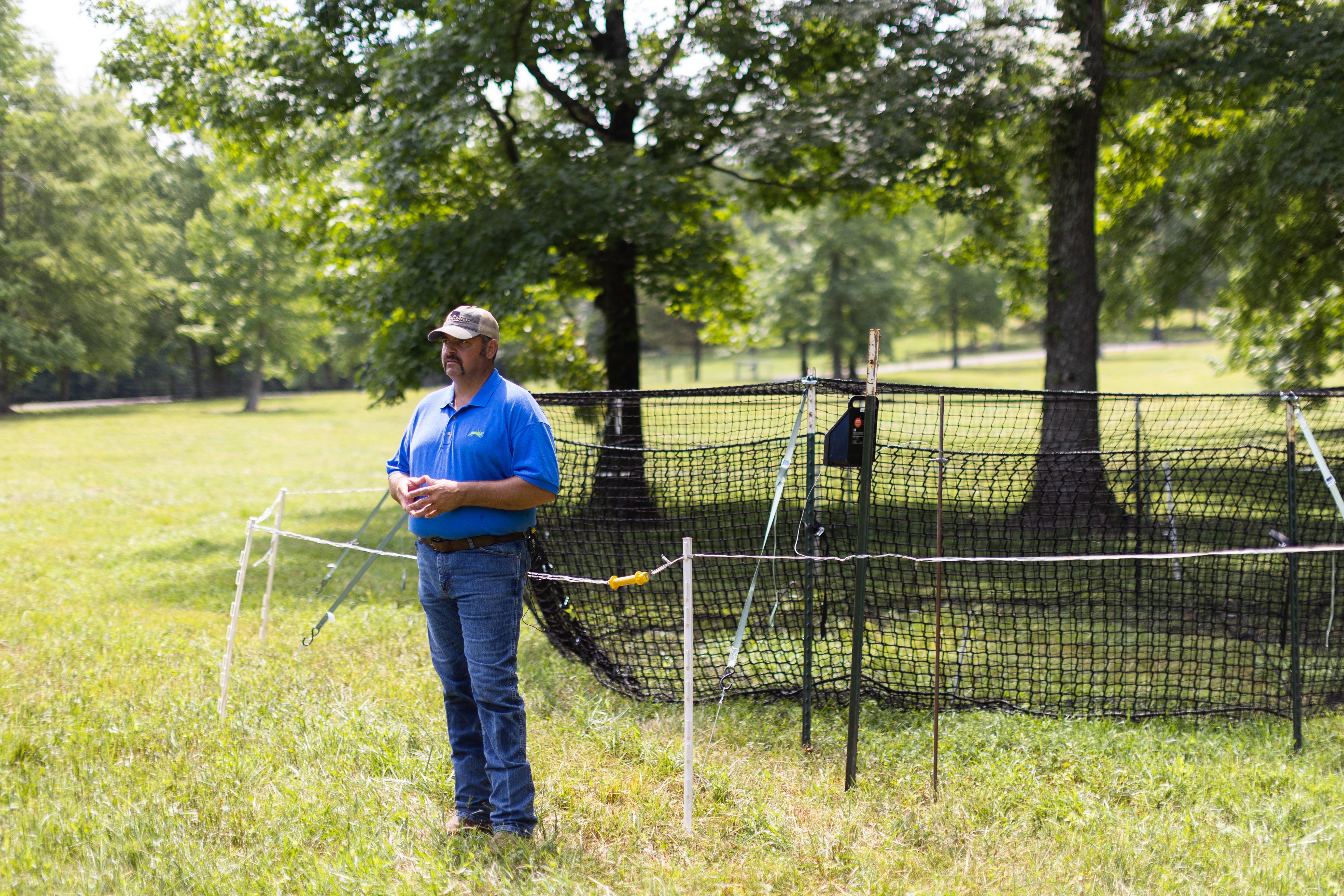 Having issues with livestock entering your trap?  We evaluated two electric fencing options to exclude cattle and horses from entering the Pig Brig Trap System or scratching their furry ol' sides on the support posts.  The first used simple plastic step-in type electric fence supports, and the second used 5' T-posts as dual-purpose electric fence supports and ground anchors.  Each system cost around $200 to purchase (from scratch), and both were 100% effective at keeping cattle and horses out of the trap system.  How do you like them apples?
The Nitty Gritty
Each system used 80' of ½" electric poly tape, an insulated gate handle, a 1-2 mile solar electric fence charger, a 5' T-post to support the charger, a small piece of steel wire for grounding, a line clamp, a 6' copper ground rod, and a ground rod clamp.  In addition, the step-in setup used 10 step-in style electric fence supports, and the T-post design used 10 additional 5' T-posts.  Electric fence supports of both types were placed in the ground at 4' from the T-post support structure on the Pig Brig.  In the T-post set up the posts were driven in at a 45 degree angle, with the bumps facing up and the tops pointed away from the trap.
The cost difference between the two setups was negligible, with the step-in fence support system costing $197.57 to construct and the T-post setup costing $219.07.  The two main considerations would be what materials you have on hand (or laying in the junk pile) and if you are using an alternative ground anchor setup with T-posts instead of toggle type ground anchors (killing two birds with one stone).  
The Proof is in the Pudding
We found both of these systems to be 100% effective at keeping cattle and horses out of the trap.  The critical factor is to keep the electric poly tape at least 36" from the ground and no higher than 40".  We found electric fencing at the 32" mark stopped the pigs from entering the trap, which kind of defeats the purpose.  Ya got to keep 'er hiked up to 36", or trapping success will be in the tank.
The best option would be to focus feral pig trapping either ahead of or behind the livestock rotation, eliminating any interference possibilities presented by livestock.  When it can't be avoided, however, the electric fencing option works.  Save yourself some time and aggravation by setting up an electric fencing system before it becomes a problem if you're using the Brig where livestock is present.  It's annoying when old Betsy has to be let out of the Pig Brig! 
Watch Aaron Sumrall demonstrate both set up versions on our YouTube channel by following the links below.